Kwa'lilas Hotel, the North Island's Premier Experiential Destination, Celebrates Grand Opening
Gwa'sala-'Nakwaxda'xw Nation-owned property to immerse visitors in history, culture
May 17, 2017 (Port Hardy, BC)
—
Kwa'lilas Hotel
, the first-Aboriginal owned hotel to offer stay and play cultural experiences on the North Island, opened its doors to the world today after a year-long renovation from the ground up of the former Port Hardy Inn, celebrated through traditional blessings, dances, songs and food. The Gwa'sala-'Nakwaxda'xw Nation, who fully own and operate the hotel, officially unveiled the transformation that represents a legacy for the community and a unique opportunity to showcase their culture and history through artwork, food and eco-tours experienced by guests.
"This is an emotional day for our community, the realization of a vision we had to proudly share all of who we are and where we come from as a people. Kwa'lilas Hotel is inspired by our traditional Big House, the centre of our community. Our roof features a smoke hole that vents steam as a signal to visitors that they are welcome to stay, rest and rejuvenate, at any time," said Paddy Walkus, Chief of the Gwa'sala-'Nakwaxda'xw Nation. "The project has lit a fire of excitement amongst our community as we realize today what is possible when we stay true to our ways and celebrate our origins." Kwa'lilas is the traditional word that refers to 'a place to sleep'. Named by the Gwa'sala 'Nakwaxda'xw elders, the community hopes to provide guests a peaceful rest after a day on the island, exploring on the Pacific Marine Circle Route or travelling for business purposes. Aboriginal cultural experiences are one of the fastest growing tourism sectors in British Columbia, according to Destination BC. The hotel and
k'awat'si Tours
—eco-tours and cultural experiences led by community members who know the land, water and animals in their traditional territories—hope to captivate and compel those guests to share their experiences with others, promote the region and return for future visits to the North Island. Port Hardy Mayor Hank Bood agrees the hotel will be a catalyst. "The Gwa'sala-'Nakwaxda'xw transformed an aging hotel into a beautiful and vibrant new landmark in Port Hardy. As the North Island continues to build credibility as a preferred tourist destination, Kwa'lilas Hotel will be a key driving force to reviving tourism by providing luxurious accommodations and creating meaningful and lasting aboriginal cultural experiences that will help draw visitors to our region. We are thrilled that the community has been able to realize such an amazing vision."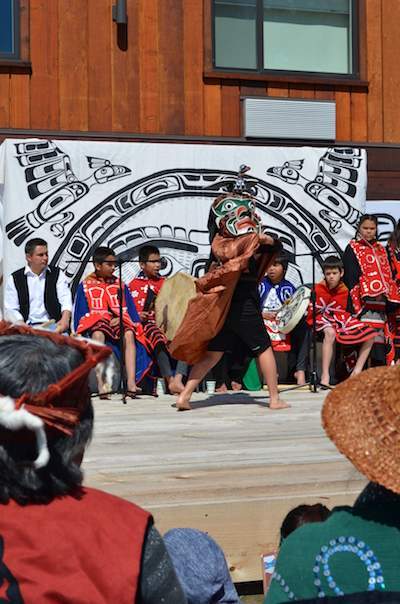 Through k'awat'si Economic Development Corporation, the economic catalyst of the Nations, the property underwent a complete transformation. The renovation project was led by the community-owned k'awat'si Construction company which allowed membership to work on the project from the beginning and be part of the renaissance of the North Island. In addition, to successfully achieve the goal of fully immersing guests in an unforgettable aboriginal experience, a significant emphasis was placed on decorating the property with authentic local Aboriginal art created by local artists, under the direction of Gwa'sala-'Nakwaxda'xw elders and Shain Jackson of Spirit Works Ltd., to celebrate Gwa'sala-Nakwaxda'xw traditions and stories. Interior décor and support was provided by Vancouver's Inside Design to bring all of the elements together. "It was important for the Gwa'sala-'Nakwaxda'xw Nation not only to work on a project that celebrates their history and culture, but also to understand that a project of this magnitude will create a legacy that will be a part of the rejuvenation of the north island— attracting new visitors, businesses and services to the region," said Conrad Browne, CEO of k'awat'si Economic Development Corporation. "From the moment we started the renovation process, to running a sold-out hotel, managing a restaurant, a showcase of artists' work and eco-adventure tours today, we have created 50 local jobs that help members support their families and stay in the community. We are proud to have over 60 per cent of our employees from Gwa'sala-'Nakwaxda'xw Nation and adjacent First Nations communities. To everyone who supported this project along the way – our lenders, designers, engineers, construction team, artists and many many others, we are grateful and could not have undertaken this without your support. Our commitment is that we will continue to grow this business and ensure we infuse the region with the benefits." Until June 13th, Kwa'lilas Hotel is offering introductory rate of $119/night for their Grand Opening. To book your stay, go to kwalilashotel.ca. Stay up to date on other package deals with k'awat'si Tours on their Facebook page.
Key milestones in the construction of Kwa'lilas Hotel
Early 2015: KEDC purchases the former Port Hardy in and begins extensive plans for the transformation of the 85-room hotel into Kwa'lilas Hotel
Fall 2015: Renovation plans, including architecture and interior design sketches, are revealed to the Gwa'sala-'Nakwaxda'xw Nation and local community
Summer 2016: k'awat'si Tours, a business arm of KEDC, launches guided eco-adventure tours and cultural experience packages including Nakwakto Rapids tours, San Josef, cedar weaving, drum making, and more
March 2017: Kwa'lilas Hotel launches soft opening and hosts the first Aboriginal Business Match Vancouver Island
May 2017: Kwa'lilas Hotel hosts grand opening including blessings from hereditary chiefs, dances from the Gwa'sala 'Nakwaxda'xw School and installs copper artwork central to the history of the Gwa'sala-'Nakwaxda'xw Nation
-30-
PHOTOS AND VIDEO
Grand opening photos and a video of a feature art piece:
http://bit.ly/2pTGru3
About Kwa'lilas Hotel
Kwa'lilas Hotel is a premier First Nations owned destination hotel, offering high-end amenities and services for North Island visitors and residents. "Kwa'lilas" is a traditional word meaning 'a place to sleep'. The hotel was named by the Gwa'sala-'Nakwaxda'xw elders in hopes that travelers and guests would find peaceful rest in the hotel after a day of exploration in the north island. The hotel features 85 guestrooms plus meeting space to accommodate up to 150 people. Ha'me' (food) Restaurant and Na'xid' (drink) pub feature Aboriginal inspired west coast cuisine. A curated selection of authentic local Aboriginal art can be found throughout the hotel celebrating local traditions, stories and culture. Hotel guests can also choose to participate in a selection of eco-adventure tours and cultural experiences guided by community members and local experts.
www.KwalilasHotel.ca
About k'awat'si Tours
k'awat'si Tours is a venture of the k'awat'si Economic Development Corporation and provides eco tours, wildlife viewing and Aboriginal cultural experiences based out of the city of Port Hardy on the northern tip of Vancouver Island, British Columbia. 
www.KawatsiTours.ca
About k'awat'si Economic Development Corporation
The k'awat'si Economic Development General Partner Corporation LP (KEDC) was created in 2014 to capitalize on a strong desire by the community desire to grow opportunities. KEDC's mandate is to investigate and realize revenue, prosperity, skills and development to the community. As a distinct entity, reporting to Chief and Council, KEDC is tasked with creating, operating and supporting businesses that will be profitable, environmentally sustainable and culturally significant, while simultaneously respecting the unique cultural values of the Gwa'sala-'Nakwaxda'xw Nation. www.kedc.ca
Media Contact:
Grace Hon, FleishmanHillard | 604-839-6770,
grace.hon@fleishman.ca